Build Your Virtual Brand with Every Zoom—For Free.
Stop sharing your house and start sharing your brand—with custom Zoom virtual backgrounds.
With the surge in video conferencing, this is a unique opportunity to captivate your audience while building brand recognition. A custom Zoom background is a great way to display your brands personality, showcase a product, or reinforce a client relationship. How does one do that exactly? How interesting do you want to be?
Zoom offers the option of a green-screen style virtual background to replace the user's actual background with an image. At Jennergy, one of our custom Zoom backgrounds includes a Zoom-themed bingo card based on common comments we hear on almost every call. It's a great way to make our Friday meetings fun!
Companies such as West Elm offering a series of images drawn from its blog. Behr paint has stylish room designs, with Behr Your Background. On Twitter, Airbnb's global head of social Holly Clarke joked brands might want to sponsor her Zoom backgrounds. While you can certainly take her up on her offer, why not showcase your brand on your own company's Zoom calls?
Customize to your brand.
Using the virtual backgrounds in programs such as Zoom are fairly easy (instructions here), however, the trick is to figure out exactly what you want to exhibit. Yes, you can just post a large watermark of your corporate logo and call it done. Or, you can use this time to channel your inner creative. Need ideas? Here are some examples of what we are doing at Jennergy for others:
If corporate quiet is your style…
If the subtle look seems more comfortable for your corporate environment, utilizing your logo or logo elements for the virtual background will make a strong statement. For our client, the University of Washington , they have a few options of their Zoom backgrounds available, including this subtle style:
They also have other options, including photos of their campus, and a video of their famous cherry blossom trees—a perfect element to display for this time of year!
Another fun idea is to include your furry friend team members. If your office was known for the dog that greeted clients at the door, consider incorporating everyone's favorite mascot into your brand background.
Don't have a corporate mascot you can use for your Zoom brand campaign? Another option is to request a vanity URL for your Zoom meetings. The vanity URL (also known as a branded link or custom short URL) is an easy redirect that gives you a memorable and descriptive URL for your Zooms. Vanity URL's typically contain a brand's name, product name, or relevant keyword for the campaign. These URL's are great for sharing in emails, on social media, or other marketing materials. For instance, a great use for a vanity URL could be for a webinar series your company is hosting, giving each talk an easy-to-remember unifying URL.
Have a product? Consider strategic product placement.
If you are looking to promote a product on your calls, consider using the background space as a way to highlight the product and its unique features.  Let your background start the conversation—it's an unexpected way to display your product without saying a word. This product spotlight can be subtle, perhaps by having it placed in context (think a coffee maker on a kitchen counter, brewing the perfect cup) or it can be more direct with a bold message about its unique features.
Reconnect with your employees, vendors or customers.
Who says your Zoom meeting has to be boring? Use the element of surprise! Celebrating birthdays are a little different these days. But that doesn't mean they can't still be special and remembered. A custom birthday background can make the day celebratory on any screen. At Jennergy, we offer our clients this custom designed background for that person's special day. How fun would it be to surprise someone on the morning call with everyone's background looking like this?
Think of your clients, and how they are doing at this time. The use of photography is an extremely powerful opportunity, and a great way to quietly reinforce your relationship and your interest without being "sale-sy." For instance, are your clients in the airline industry? Simply dropping in a photo of their product, or their interests, will help spark conversations and remind them of your commitment to their line of business. Is your customer in the restaurant industry? Place a photo of their well-known beverage in the background of your next Zoom meeting. The use of photography is an easy way to remind others that you remember their brand, appreciate their value and you are care about their interest. A little bit of thought can go a long way in building relationships.
Engage your audience.
Are you ready to make your Zooms a bit less boring? How about donating to a good cause? Get a laugh out of your team, or simply have them do a double take, by inviting a special guest. If you don't already have an office pet, you can "rent" one for your next call by inviting a goat to a meeting as a fundraising effort the animal sanctuary.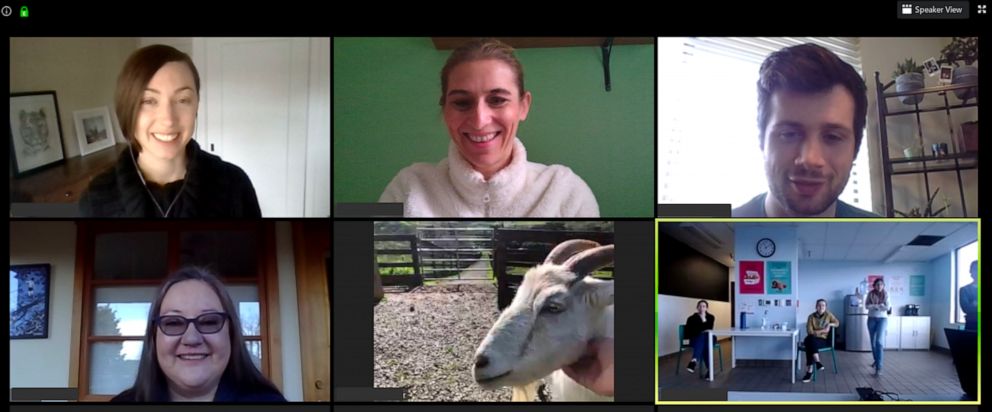 Have a photo of a previous corporate selfie at your last holiday party? Reconnect with your team! By inserting your photo, you can reinvent the famous Oscar selfie that many are using as their virtual Zoom background:
Ready to get started? Tips to consider:
As creatives, we can't help but try to make you look your best! If you want to try to stylize your photo—or yourself—here are some Jennergy tips on creating the best appearance for both you and your Zoom virtual background:
Background color choice is important—darker colors better are better for providing depth and white is often glaring bright on a screen
Texture or patterns work well to feel more natural as a background
Positioning your chair/face towards a window/natural light will not only make the background appear better but you as well
The options are endless for what you can do to showcase your brand with a virtual background. And Jennergy is excited to help! If you want a custom branded background for your next meeting, contact us and we will make you one—for free!